In the 1st quarter of 2019, FRANdata identified 108 new franchise brands across 22 industries. Similar to last quarter, QSR and Restaurants industries are the top two largest markets for new franchises. Numbers of emerging brands in Health & Fitness and Business-Related industries increase, taking up 48% of the new franchise market with the top two industries.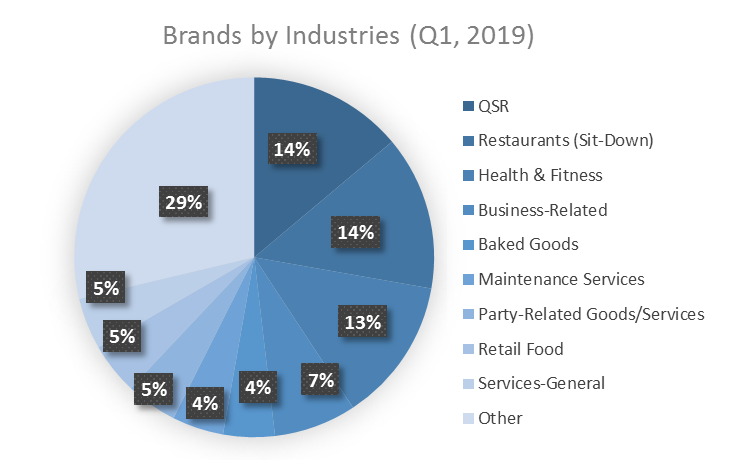 Brands Poised for Growth
104 brands have no franchised units as of 2017. Nine brands project that they will add more than 10 franchised units in the coming year. Among these brands, only one has 10 existing franchised units; the rest either have only company-owned units or have no units at all.
Interesting Concepts
The following concepts caught our attention:
A laser acupuncture/acupressure/electronic stimulation and therapy to assist in smoking cessation, drug/alcohol use cessation, weight control and lifestyle enhancement, and to manage and reduce pain and headaches, stress, insomnia and anxiety among other treatments and therapies.
A medical care management business that will establish and manage a sinus and snoring medical practice.
A brand that grants franchisees the opportunity to establish and grow a private invitation only community of entrepreneurs, business and civic leaders, inventors and innovators in order to foster and facilitate business and professional development and relationships through the exchange of ideas, referrals, mentoring, funding and giving back to the community.
Interested in learning more? Subscribers of our New Concept Report get the full version of the report which includes —
4 quarterly reports that provide a profile for your sales person of each new franchise
200-300 contact leads for the brands discussed in the issue, including executive contacts
An executive contact list of the management team at each franchise brand, including titles, job codes, HQ addresses, HQ phones, and websites.
A monthly alert list of new brands we discover each month
Brand profiles for 75-150 startup and early-stage franchises
Sales preparatory information to qualify the lead and initiate intelligent communication with the brand