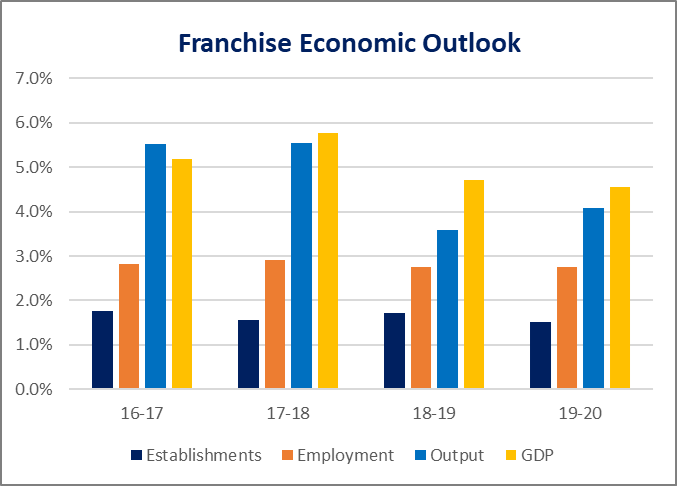 In 2020, the number of franchise establishments is expected to increase by 1.5% to 785,316.
Franchise employment is forecast to increase by 2.8% to 8.67 million, adding a total of 232 thousand jobs.
Franchise output in nominal dollars is projected to improve by 4.1% to $819.57 billion in 2020.
Arlington, VA February 7, 2020/PRWEB/ — Leading research and advisory firm FRANdata provided its annual industry forecast for economic growth to the International Franchise Association (IFA) last week. The report predicts the franchise industry will continue to ride the economic boom in 2020.
"We forecast that most franchise businesses will sustain robust growth in 2020, especially in the personal services, quick service and full-service restaurant segments," Says Darrell Johnson, CEO of FRANdata. "Franchising will continue to play a major role as a driver for growth in our economy."
Franchise businesses especially influence state economies through job creation, promotion of output, and GDP contribution. According to the report, the states that will see the most franchise establishments and employment growth in 2020 ranked in order are: Texas, Colorado, Arkansas, Florida, Idaho, Tennessee, Georgia, North Carolina, South Carolina, and Nevada. Overall, franchise business development will continue to increase in the South and West due to growing populations, state-level economic policies and favorable business tax climates.
"The franchise industry continues to pride itself on its positive impacts on communities across America." Said Robert Cresanti, IFA's President and CEO. "We are very excited to showcase these opportunities in our annual Economic Outlook Report. Locally-owned franchises are America's hidden small businesses and this new report demonstrates their impact nationwide and, in every state."
In order to fully study the total impact of franchising to the economy, FRANdata examined macroeconomic trends and the historical performance of all franchise brands operating in the United States, over a ten-year period and across all major industries. For state level franchising activity, FRANdata analysts calculated each state's franchise establishments, employment, and output for a 3-year and estimated each state's contributions to the franchise industry for 2019 and forecasted for 2020.
Access the full report here https://franchiseeconomy.com/assets/26604.pdf
Access the executive summary here https://franchiseeconomy.com/assets/26602.pdf
About FRANdata:
FRANdata is the leading independent research and advisory company focusing on those companies that use the franchise business model and their performance. Leveraging the largest database of franchise information in the world, FRANdata provides market insights and actionable intelligence to help their clients make smarter business decisions. FRANdata is proud to be a strategic partner of the International Franchise Association (IFA) and continues to provide research and advisory services to both franchisors and companies who want to supply goods or services to the franchise market. FRANdata is often cited as an expert in such leading media as The New York Times, The Wall Street Journal and Forbes. Additional information is available on the company's website, https://www.frandata.com
For additional information or more media inquiries, please contact mmoy@frandata.com.